I am excited about today. This is my third time joining in on this blog hop. It is always fun to go and search the internet for ideas.
Thank you
Alida
for hosting this blog hop and for allowing me to join you.
We are to take a traditional piece, it can be anything from architecture, paintings, sculptures etc., then make it with fabric.
We were to chose one color
I chose this Pantheon in Rome, this painting was by
Giovanni Paolo Panini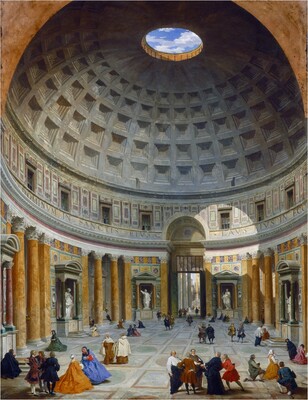 I was mostly fascinated with the ceiling.
This was definitely what I wanted to do but, as always, a lot of thinking. I at one point decided not to do this and went looking for another piece.
Then as I was thinking about this piece, it dawned on me, it doesn't have to be exactly like the painting. The painting is a form of inspiration. So that being said, I went looking for fabrics.
Of course, the
Aurifil thread
that matches. It doesn't look like it in this picture but it does.
Then a wedge ruler that I have never used. Have had it forever....
You know that one thing that you just have to have but it just sits unused.
When you add all those together you get this!
This is plain, simple but I love the fact that it looks so pretty on my island in my kitchen.
Here is the schedule for the week, if you have not been by their blogs, please go. These are some of the most talented people I know.
Monday, November 5th, 2018
Tuesday, November 6th, 2018
Wednesday, November 7th, 2018

Thursday, November 8th, 2018
Friday, November 9th, 2018